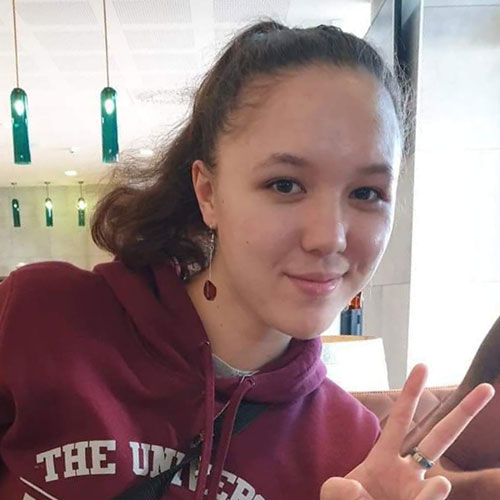 WOOD IS GOOD PROGRAMME COORDINATOR
Fushia Tibble
Fushia Tibble has been appointed programme coordinator of Eastland Wood Council's "Wood Is Good" programme, delivered in schools, for learners in years 1 to 8.
Active in sports, Fushia has competed locally in the sport of swimming, Tae kwon do in national competitions and brought home golds in waka ama at the last international regatta.
Currently Miss Tibble has her sights on a new goal. In her second year of a Bachelor of Biomedical Sciences at Auckland University, she aims to work as healthcare professional to support the health and wellbeing of people at home, Te Tairawhiti.
Says Fushia, "I am thrilled to be appointed the Wood Is Good programme coordinator. My whanau are, 'of the land' the East Coast and I feel fortunate to have experienced country living and an education within Ruatoria and the Gisborne in both English and Māori medium through Kura Kaupapa Māori and Kohanga reo.
'Wood Is Good' programme has three key priorities including opportunities to promote and guide:
Health and Safety: Working with students to keep them and their whanau safe; through delivery of 'Share the Road' and 'Be Safe, Be Seen' programmes.
Kaitiakitanga: Highlighting the forestry industry's commitment to sustainable environmental practice (climate change) and how it cares for the whenua.
Careers: To support rangatahi to make informed choices about pathways to employment by introducing them to support systems through the 'Fred the Forester' books and digital resources.
One of the new developments led by Ms Tibble is the translation of the programme resources into te reo Maori. This to increase access for Kura Kaupapa Māori students and support all schools and the nations commitment to valuing te reo Māori.
Philip Hope, CEO of the Eastland Wood Council (EWC), said "EWC is really pleased to have Fushia Tibble lead the Wood Is Good programme. Fushia is passionate about the health and wellbeing of people and the environment. She also brings with her the ability to adapt this programme to meet the needs of individual schools".
The introduction of the Wood is Good Programme comes at an important time, because every official report written about managing climate change in New Zealand has promoted the use of forests for carbon sequestration.
In learning we share and grow. The EWC looks forward to working with and supporting Fushia in her key role which will engage and inspire rangatahi here in Te Tairawhiti.