Forestry field trip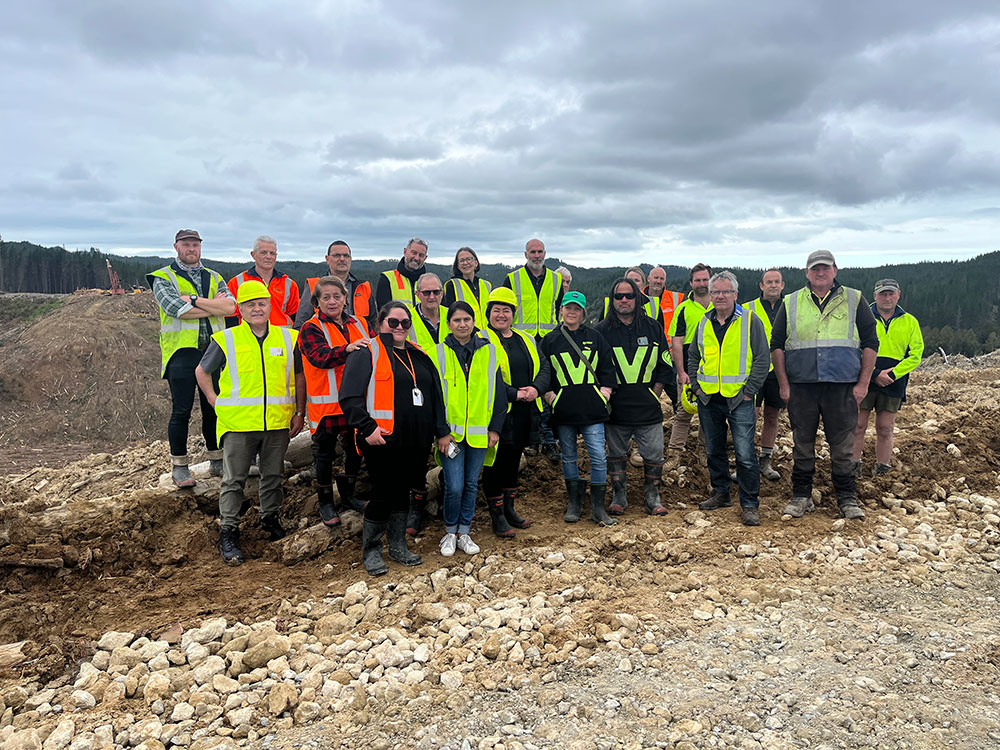 Forestry field trip
30 September 2022
Eastland Wood Council was pleased to organise a forestry field trip last Friday 30th September for nominees of Gisborne District Council and guests.
This event was led by Shaun Truelock of Juken New Zealand Ltd (JNL) and Chris Hurring Logging Ltd.
Forestry industry colleagues assisted with transport of guests and together we visited Pamoa Forest in Waingake; Managed by JNL and Harvested by Chris Hurring Logging Ltd.
Pamoa Forest is a 1200-hectare pine plantation that is being harvested for the first time. The harvest operation is steep slope swing yarder logging.
Guests got to see first-hand, an active logging operation, including a tethered felling machine in action and the loading of logging truck/s. Guests also visited the active skid site to see the rehabilitation of the skid site and best practice to secure logging slash.
Rain was forecast for Friday, and it didn't disappoint. We were fortunate the rain clouds didn't open-up until near the very end of the field trip.
Forestry crews work hard, and their long days begin early. This field trip also demonstrated how forestry crews work in remote locations, all the while exposed to climate extremes.
Eastland Wood Council members are dedicated to improved health and safety outcomes, including wellbeing through strong leadership.
Acknowledgement
Our guests for making the time to attend this forestry field trip.
Shaun Truelock (Regional Manager – East Coast Forest) Juken New Zealand Limited (JNL) and industry colleagues for hosting this event.
Chris Hurring and crew members of Chris Hurring Logging Ltd for showcasing this harvest operation and for explaining in detail the various processes, technology and machinery.
Our sincere regards are with Avneesh Vincent (Reporter, Gisborne Herald) who had an incident subsequent to the field trip while riding his 50cc Moped Scooter back to town from the pre/post meeting venue (Raglan Roast Café per Jolly Stockman).
Post-harvest; Gisborne District Council is managing a reforestation project, per GDC's Waingake Transformation Programme native revegetation initiative.