Eastland Wood Council provides an update on Tolaga Bay beach clean up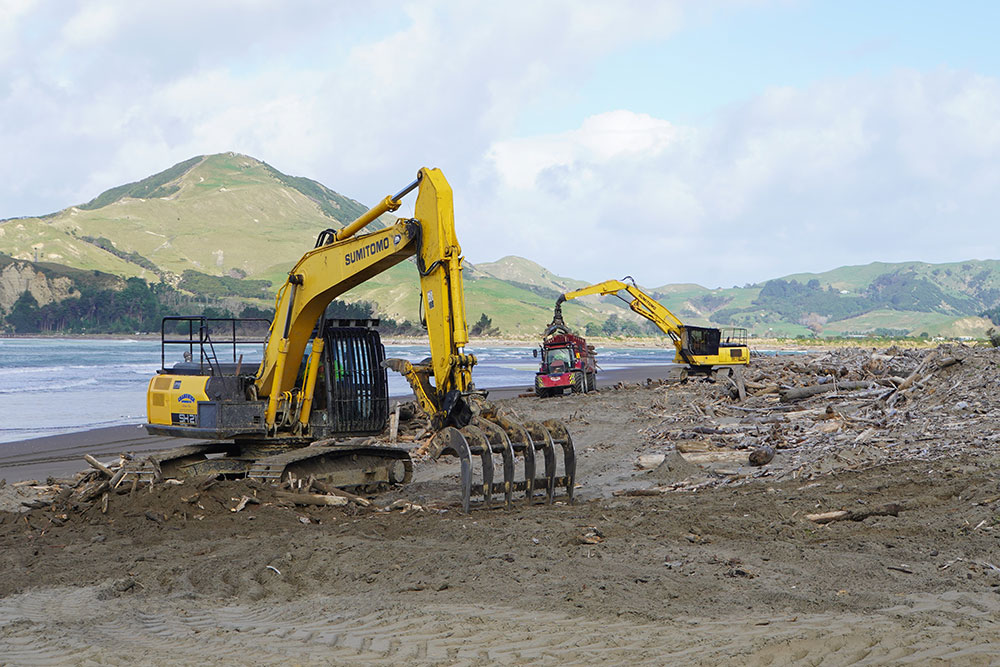 The Eastland Wood Council – Te Kaunihera Pororākau o Te Tairāwhiti (EWC) has today provided an update to the community on the clean-up of Tolaga Bay beach with a number of contracting staff, supported by local forestry companies working to clear debris, having started at the Surf Club end of Tolaga Bay beach on Monday. 
EWC CEO, Philip Hope said: "We are pleased our members have been out working in Tolaga Bay this week, to remove woody debris from the beaches, and continue to help our community recover.  We have a number of contracting staff out working, using heavy forestry machinery to clean up from the recent, devastating cyclones." 
 "This work comes as part of the forestry sector's overall efforts to clean up beaches, and neighbouring properties after cyclones Hale and Gabrielle, and teams have really worked hard to support clean-up efforts across Tairāwhiti. In the immediate aftermath of these devastating cyclones, we had hundreds of kaimahi (staff) up and down the coast simply rolling up their sleeves and getting stuck in to help wherever it's needed. 
 "The increasingly severe storms we are experiencing have had a major impact on our community, and this is our home too. The forestry industry has the tools and equipment to get stuck in, which is exactly what we are doing. We are pleased today to be able to update our community on the ongoing work at Tolaga Bay Beach."