EWC Meeting: Hon Michael Wood, Minister of Workplace Relations & Safety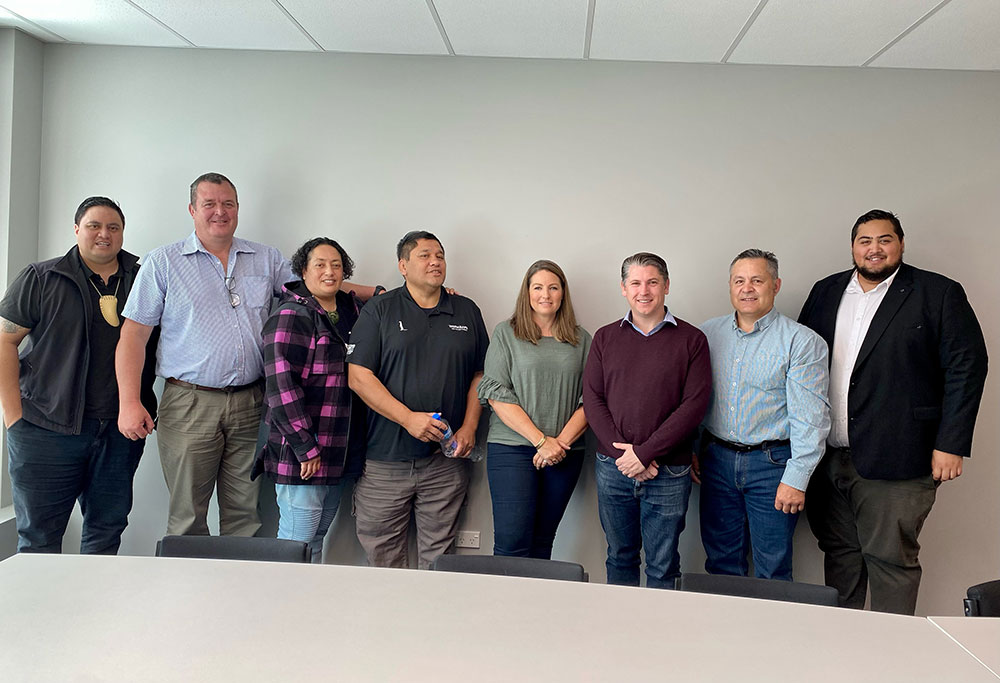 1 DECEMBER 2022
Kia ora Koutou
EWC hosted a very positive meeting with Hon Michael Wood this morning in his capacity as Minister of Workplace Relations and Safety (prior to his visit to Mangatu Forest).
EWC was represented by; Warren Rance (Summit Forests), Erika Herries (Women in Forestry) and the writer.
Attending with the minister was; Susan Johnstone (Ministers Private Secretary) and a delegation from WorkSafe, led by Gee Dennis (Kaiarataki), including; Joe Hauiti (Kaiarawhiti Te Tairawhiti), Te Hira Pere (Māori-Crown partnership Manager) and Rawiri Waru (Te Kawa a Tane lead). Pics below.
Agenda:
1.0 Tuwhera – opening
2.0 Whakawhanaungatanga (Introductions)
3.0 Forestry Health and Safety priorities 
3.1 Acknowledged the important collaboration with WorkSafe and a key priority is to improve the culture of safety in our industry.
3.2 Could WorkSafe be more available to assist with resources, training etc in the region, facilitiating discussions, arranging for expert speakers etc.
3.3 H&S culture needs to be developed from Primary School, or before is it part of any educational curriculum.. This philosophy aligns with EWC's schools programme and industry commitment to workforce development.
3.4 Need WorkSafe to apply consistent standards across the industry and country, be more mentoring/guiding, than being seen primarily as the regulator.
3.5 ACOP review and EWC's request (and commitment) to provide input to each stage with the support of members and kaimahi.
3.6 Toroawhi (a WorkSafe funded initiative) do great work. We have had very little feedback about what the data collected is being used for. What has been identified? What are the trends? How can principals take this on board? We need a more efficient medium for sharing learnings in real time to improve safety..
3.7 Other topics discussed, included:
Improving Tikanga
Health check-ups of kaimahi funded by industry
Pastoral care is an ongoing need with a health and safety focus on prevention (especially for workers moving from manual to mechanised)
The Minister is concerned about the increased H&S risks caused by cost cutting (by some) the result of inflationary pressures, coupled with harvest volume pressures and asked we work closer together to address this.
3.8 Minister Wood in his capacity as Minister of Transport and/or Associate Minister of Transport Hon Kieran McAnulty was invited to visit Te Tairawhiti early next year to discuss roading issues and solutions. We propose to include a visit to Eastland Port.
The Minister is warm to this opportunity and has asked we also issue an invitation to Hon Kieran McAnulty and Hon Kiritapu Allan.
3.9 Minister Wood was invited to attend 2023 Eastland Forestry Awards, Friday 26th May 2023 (including our/his WorkSafe representatives).
The Minister is keen to attend this industry event and he wanted to pass on to all EWC members the good work that is being done by principals.
Nga mihi
Philip Hope
CEO & Board Secretary  |  Eastland Wood Council
We acknowledge: EWC Chair, Neil Woods who was unable to attend today's meeting, because he has been dealing with covid. The Minister, everyone at WorkSafe and EWC members send their best wishes to you Neil.