Update on Waikanae & Midway Town Beaches clean-up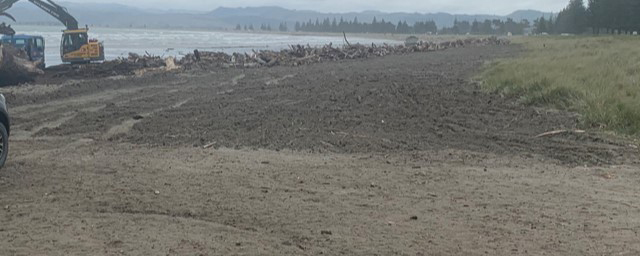 Update on Waikanae & Midway Town Beaches clean-up
24 FEBRUARY 2023
Eastland Wood Council (EWC) has today provided an update on the clean-up of Waikanae and Midway Town Beaches in Gisborne. Clean-up work on the beaches from Cyclone Gabrielle is well underway, and the beaches are planned to be partly open to the public this weekend.
Philip Hope, CEO of the EWC, says:
"Our industry has crews out working hard to help our community clean-up in the wake of the devastating Cyclone Gabrielle. This had a major impact on our community, and this is our home too. The forestry industry has the tools and equipment to get stuck in, which is exactly what we are doing. We are pleased today to be able to update our community on the ongoing work at Waikanae and Midway Town Beaches."
The EWC reports that The Cut to Grey Street on Waikanae Beach has been cleared and is planned to be open to the public this Sunday, 26 February. Work continues to Midway Beach, with the section to the Pipe expected to be cleaned up by the end of next week.
"We are devastated that Cyclone Gabrielle has had such a major impact on the community that we call home. As the response continues, we are standing side-by-side with our community to support the immediate response.
"We have hundreds of kaimahi (staff) up and down the coast simply rolling up their sleeves and getting stuck in to help wherever it's needed – from deploying our heavy machinery to clear roads, farmland and beaches; working with local authorities to build new roads through our forestry blocks where public roads are damaged; and working alongside families to scrub out silt from their homes and businesses. The scale of this clean-up will take some time, however, as an industry, we are committed to doing what it takes to support our community as we recover.
"But longer term, we know some things need to change. Across all land users in our region, we need to have a sensible conversation about how we can move forward and what role forestry plays in that future, and the EWC is absolutely committed to that. Forestry has an important role to play in a future here in the Tairāwhiti region, but we know that what that looks like will change."